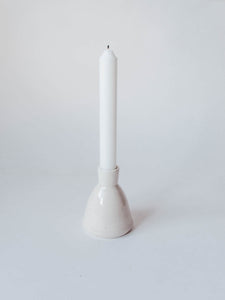 These bottled candle holders are open to the base, allowing them to function as both a candle holder and bud vase! Gotta love a double purpose ceramic.  
The item you will receive is not necessarily the one pictured. All handmade items are unique and one of a kind. There may be natural variations so you may expect minor distinctions that make yours special.
Thrown on the potter's wheel in Toronto Canada by Sara Scheuermann. 
Approximate Dimensions: 
Opening 1" diameter. Thicker candles can be shaved down, thinner ones can be waxed in place as needed
4" - 5.75" tall x 3" wide